8 Seats 1x1 Deluxe Tempo Traveller with one Bed :
We offer 8 Seats with One Bed Tempo Traveller on Rent in Delhi to Other city tour package for family holidays trip, 12 Seater 1x1 deluxe tempo traveller with one bed for shimla manali tour package, 11 seater deluxe tempo traveller with one bed, 12 seater Deluxe Tempo Traveller hire from Delhi to Rishikesh Tour Package, 11+1 Seater Maharaja Tempo Traveller Delhi to Shimla Manali Summer Tour Packages, 12 Seater Maharaja Tempo Traveller on Rent in Indirapuram Ghaziabad UP. And searching tempo traveller agency in Delhi, 12 Seater Tempo Traveller Maharaja 1x1 Vehicles is very suitable for Family Picnik and friend group tour package and tempo is best option for comfort and safety journey. 12 Seater Mini Deluxe 1x1 Tempo Traveller with Maharaja Seat Plus Bed.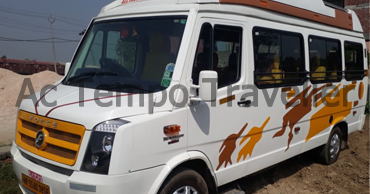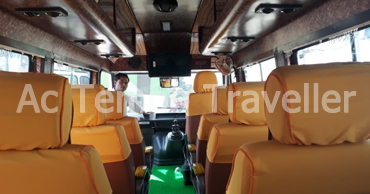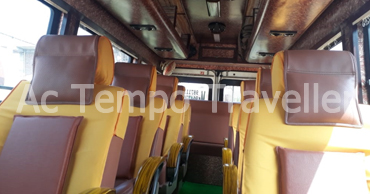 8 Seats Deluxe 1x1 Maharaja Tempo Traveller with Bed :

1 - Pushback Seats
2 - Sound System
3 - Mobile Charging Points
4 - Fully Leather Seats
5 - Ample leg space
6 - Neat & clean seat covers and curtains
7 - Color LED Screen
8 - Both AC & Non AC
9 - ICEBOX, First Aid Box
10 - Driver and Cleaner in Uniform
11 - Friendly Driver
(Terms and Conditions to Hire Tempo Traveller for Outstation Trip)

Time and Kilometers will be calculated from Delhi Garage to Delhi Garage.
Driver Allowance Rs.400 per day.
Government Inter State Taxes, Toll Fees and Parking will be charged extra as actual.
Minimum 250 km perfect will be charged for Outstation Tour.
Not Including All Government Monument Tickets, Trains, Flights and other charges.
Includes:
Friendly and responsible driver.
Vehicle Fuel.
Neat and Clean Cover for Every Seat
Good Sound Music System
NOTE :- A/C Could Not Allowed Hill Area .
Ac Tempo Traveller Hire in Delhi
Rated
4.6
/5 based on
252
Reviews
---
Luxury 2x1 Tempo Traveller Delhi Noida Gurgaon ghaziabad :
Car Rental services Delhi Noida Gurgaon Indirapuram :
Ac Tempo Traveller is best tempo traveller agency in Delhi Noida Gurgaon Faridabad Ghaziabad Indirapuram to Outstation Tour for Family and Group Tours. 8+1 Seater Deluxe 1x1 Tempo Traveller Hire Delhi, 9 Seater Maharaja Tempo Traveller, Delhi to Kasol Tour by 9 Seater Tempo Traveller, Delhi to Agra Jaipur Tour by 9 Seater Deluxe 1x1 Tempo Traveller, 9 Seater Luxury Tempo Traveller, 9 Seater with Sofa Seat 1x1 Tempo Traveller, 9 Seater New 2017 Model 1x1 Tempo Traveller, 9 Seater Ac Tempo Traveller, 9 Seater Pkn Tempo Traveller, 9 Seater 1 by 1 Tempo Traveller in Delhi, 9 Seater Pkn Tempo Traveller, We Provide also 9+1 Seater 1x1 Maharaja Deluxe Tempo Traveller for very comfortable journey by Actempotraveller.com